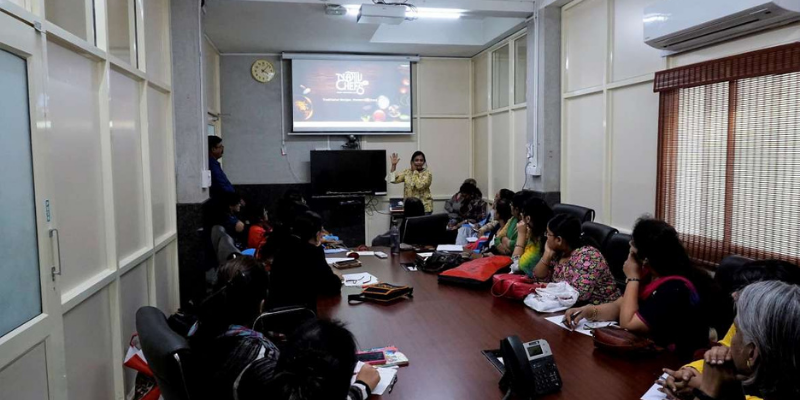 Palette Pantheon: the Third chef meet at Nativ Chefs
Nativ Chefs team welcomed budding new chefs, a stream of new culinary wizards on 3rd January'19, Thursday at the conference hall at IIM, Nagpur, from 2 pm to 4 pm. The event was attended by fifteen participants who would be admitted as prospective chefs, once their dishes are evaluated and scrutinized by the establishment.
It commenced with the tasting ceremony, which involved showcasing of individual dishes with their names. As the tables were studded with the dishes, the canvas was replete with the most distinguished preparations that signify the unique Indian tradition and also a legacy which is second to none. The participants interacted and shared their anecdotes with each other. This was an outstanding platform to connect with their peers.
It was then succeeded by a PowerPoint presentation, in which the founder of Nativ Chefs, Ms. Leena Dixit explained and outlined the basic concepts of Nativ Chefs. She also defined the vision, mission, and objectives of the organization. This was followed by a technical discussion compared by Madam Chitra Soni, who is a stalwart and is a much-revered personality in this field. She has over forty years of experience in the food sector and has tutored over one lakh students. She touched upon the core ideas of costing and budgeting of the dishes, which is highly imperative to the seamless functioning. Also, a host of other nitty-gritty like contract details and aspects, as well as FSSAI registration was covered. Hygiene factors were standardized. Stringent measures were adopted which would not be compromised.
Also towards the fag end of the event, interviews with the prospective chefs were carried out by the Nativ Chefs team, to break the ice and accustom them. This ceremony was a very hearty and warm welcome to the new talent that would be channelized into Nativ Chefs. A message to all participants:
"We look forward to working with you. Welcome aboard!"