It was a crispy cold Sunday evening. The dining hall and makeshift back kitchen of Press Club at Civil Lines were abuzz with frenzied activity- an evening of the second edition of Indian Treasures was finally here! Nativ-team was going through last-minute preparations- decorating tables, instructing helpers, setting dish booklet et all. There were salads being prepared and drinks being poured. The tables were being set and plates were being stocked. This dramatic activity made the excitement more palpable.
Today, their long weeks of hustle for organizing this buffet dinner would test waters. Today, they would be hosting a party for 35 guests. And today, the guests would be tasting some of the most delicious, authentically prepared Indian dishes!
"India has so many dishes that go unnoticed, so many cooking methods that we are unaware of. Each recipe on our menu has its own story, each is its own hero. They are all hidden treasures which we wanted to highlight with Indian Treasures, and hopefully garner some appreciation for our own Tarla Dalals!" shares founder Leena Dixit.
Right from selecting the menu to selecting the venue- the Nativ-team toiled for three weeks straight to organize a pleasurable evening. After exceedingly long hours of discussions and endless cups of Chai, the outline of this buffet started taking shape. A starter course, main course, and dessert from all four zones of our country were locked and sealed. There would be 22 dishes- each representing its diverse culture, straight out of our chef's home kitchen!
"I think the toughest part of this was locking the menu- we have close to 50 chefs and all wanted a place on the plate! After so many elaborate meetings with the team and our food expert, we boiled down to these final 22. And I think everyone was supportive once we finalized them," recalls Mrs. Dixit.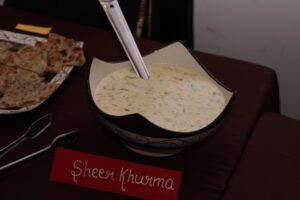 After the first line of guests hit our buffet counters, a cumulative aroma of smoky and spicy flavors had already settled in the room. Amidst children's laughter and grandparent's chitter-chatter, there was a comfortable vibe all around.
"I think with this leg of Indian Treasures, we have come a long way. We were more prepared overall, more poised and everything went on smoothly. Everybody seemed to be having a good time. Our chefs also gave us their A games that evening! They did what they do best- cook fabulous food. They engaged with the guests, explained their recipes, even met a few fans!" says Mrs. Dixit fondly.
Guests, indeed, enjoyed the food. Some found their new found love for Parsi Dhansak, while some indulged in sweet nostalgia with Sheer Khurma. One of the evening's guests, a senior couple Mr. and Mrs. Dass loved Litti Chokha, and say, "Being Punjabis, it is something that we don't get to eat in restaurants that often. It is all commercialized and mass-produced there. But with Litti Chokha here, we tasted an authentic dish. Now we know what it really tastes like in Bihar."
Another guest, a well-renowned food blogger Neha Rahate from Nagpur. describes her experience and says, "This was my first dinner at Indian Treasures, and I loved it! The quality of cooking is a specimen of the expertise of their home chefs because we don't usually get to eat authentic dishes. I think I might have a newfound love for Keema Samosas and Dhansak now!"
Just like every dessert needs a pinch of salt, the guests shared their feedbacks too. To this, Dixit says, "We are very well aware of our shortcomings. This was only our second attempt at buffet dinner, and we rectified our mistakes from the previous one. And we would always strive harder to serve the most authentic experience. Hopefully, the next edition will be even better!"