Guru Nanak Jayanti – A lesson in humanity
"Ik Onkar Satnam Karta Purakh.."One singularity. One truth. There is only one creator- One God- who has created everything...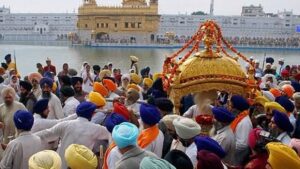 These are the opening lines of 'Mool Mantra', an important composition of the Sikh religious scripture, Guru Granth Sahib. These soothing lines can be heard from the Gurudwaras on Guru Nanak Jayanti which celebrates the birth anniversary of Guru Nanak. Born on full moon day of Karthik month of Hindu calendar, he was the first Sikh Guru and the establisher of Sikhism.
Guru Nanak Jayanti is celebrated with fervent zeal and enthusiastically amongst Sikh community, mainly in the northern states of India. Throughout the day, the priests read Guru Granth Sahib from start to end without a break. Local Gurudwaras also organize various functions, Kirtans (singing religious hymns) and serve Langars (community meals) to mark this holy day. People from all walks of life and all religions can have food from these communal kitchens which are operational throughout the year. Guru Nanak was a staunch propagator of oneness and equality- he abhorred the four caste system labeled by Hinduism. The idea of Langar, too serves this ideology of all men sitting together and eating the same food.
There are some interesting fables from his life that string praises of Guru Nanak's kindness. Once, along with his two friends Bala and Mardana, he was walking through a village where a Brahmin man was preparing food. Those days Brahmins were considered as the most superior and purest Hindus. They would only eat food made from purest of ingredients, cooked on fire that would purify it further.
The Brahmin man, too, took lots of efforts to prepare his food. He purified mud for the oven, took bath in holy waters of Ganga and wore fresh clothes. He was finally offering prayers before eating when he heard Mardana say, "I, as a Muslim, know that Guru Nanak is the true messenger of Allah. Ik Onkar Sat Nam Karta Purakh..". As they came closer, Mardana's shadow fell on the Brahmin's food!
The Brahmin got so angry that he started hurling abuses at Mardana, calling him all sorts of names. He even chased him with a broomstick. After all, he had tainted a Brahmin's meal! Naturally, Mardana ran straight to Guru Nanak who was watching the drama unfold. In a very calm voice, Guruji said to the man, "You made a pure oven… and put a circle of purity around it. You put in pure ingredients and then you put it in the purifying fire. Then you were planning on putting that most, most pure food…
"…into your dirty mouth…"
Hearing this, the Brahmin suddenly realized his mistake and fell to his knees. He apologized profusely and Guru Nanak departed with a few words of wisdom.
"Every mouth eats food. But what is the use of a mouth that can't speak words of love? We are all one. Created by one."
This ideology is the backbone of Sikh religion. The Langar in their Gurudwaras serve food to everyone without discriminating based on race, religion or caste. Every day, families volunteer for Sewa in the kitchen. Women prepare food, while the men and children help in serving it. The kitchen is run solely on volunteers and no caterers are allowed. This is highly impressive also because the kitchen is functional all year round, serving piping hot vegetarian food twice a day.
Eating Langar is an experience in itself. Simple Dal cooked overnight, lightly tempered with spices, fresh seasonal vegetables and piping hot Chapattis. A special sweet called Kada Prasad is the quintessential sweet offered to everyone at Gurudwara and Langar. It is made by slowly roasting whole wheat flour in a vessel full of ghee, then finishing it with sugar syrup and nut shavings.
While everybody celebrates Guru Nanak Jayanti, here are some other Punjabi dishes that can satisfy your cravings!
Overnight soaked kidney beans tempered with whole spices and cooked in tomato gravy, this dish is the penultimate comfort food for all North Indians. Nothing beats the combination of soft mushy flavourful beans and fragrant rice!
A thick curd based preparation with besan fritters, nothing speaks of North India as Kadhi Pakoda. This dish is finished off with a light tempering of curry leaves and mustard seeds. The only thing better than Rajma Chawal is Kadhi Chawal!
This dish can be found in every nook and corner eatery in North India. It is quite a filling dish, made from kidney beans and black gram cooked in tomato and cream-based gravy.