After receiving Lord Ganesha's blessings, let your tastebuds taste our ukadiche modak and fried modak. We are sure you will give in to your cravings and keep wanting more.
When you open the box of Modaks, the burst of aroma accentuates the whole experience. Well, this blog is about those hands which prepared these sweet delights.
Chef Anuradha was born and brought up in a Maharashtrian household where every festival is celebrated with great enthusiasm. Being brought up in a joint family where guests are frequently visiting and food always cooking, and the cultural palette that her mom and her aunts brought with them gave her a chance to relish the different flavors of Maharashtra. But Modaks always had a special place in her heart. She reminisces the time when she used to watch her mother and grandmother making modaks, which provoked her interest in modaks. She even says that she knows how to make them from a very early age and also says that it took her a lot of practice to get those 'kaliyas' right.
So, one fine day our Chef Community team went to her place for a small interview. They wanted to know about her experience in executing the orders, which then lead to a whole thread of conversations knotted with a lot of sweet memories and experiences, which made her who she is today.
Starting with her childhood, she was born and raised in a joint family that resides in a small town in Maharashtra. "You could see as to how amazing her childhood was by just looking at her smile when she talks about it," says one of the members from the Chef's Community department, and as already mentioned Modaks were the most cherished chapter of her childhood. Completed her 12th in Science, she did her graduation in Bachelors of Arts and Masters of Arts from her hometown. She was working as a teacher when she got married and left her hometown, and started her new life in the city of oranges, Nagpur.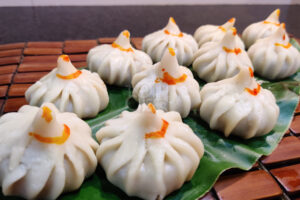 Chef Anuradha says that her family has always been very supportive. Especially her husband, who always motivated her to socialize, learn new things, and explore new opportunities. She came to know about Nativ Chefs from a reference of her friend. It was a golden opportunity for her because cooking was something that is not less than a passion for her. What fascinated her the most about the model was it believes in serving only traditional and hygienic food, and that's what she wanted to showcase- Her homemade authentic Ukadiche Modaks!!
Her journey with Nativ Chefs till now has been an amazing one! And when asked about executing modaks from last year, she says, "I got this long list of preorders for modaks lined up, and the first day of Ganesh Chaturthi was pretty stressful"; but with the help of her husband and son, she was able to serve us those beautiful modaks. She summarizes the whole experience as an amazing one as this was something she always wanted to do.
Determination is the key! She recalls that she used to wake up at 4 am to prepare modaks, and she had made more than 6000 modaks!! Well, that's the power of a home chef, which no one should underestimate. This year, even in the pandemic, she has received a lot of pre-bookings for modaks, and she is very excited to serve you the delightful authentic Ukadiche modak, which we deliver to you with utmost safety.
Chef Anuradha has been a part of various cooking shows, sometimes as a participant and even as a judge. Nativ Chefs has onboarded her other traditional delicacies as well like Upwas specials Sabudana Khichdi, Shengdana Laddu, and other festive delights like Fried Modaks, Til Gud Laddu, and many more.