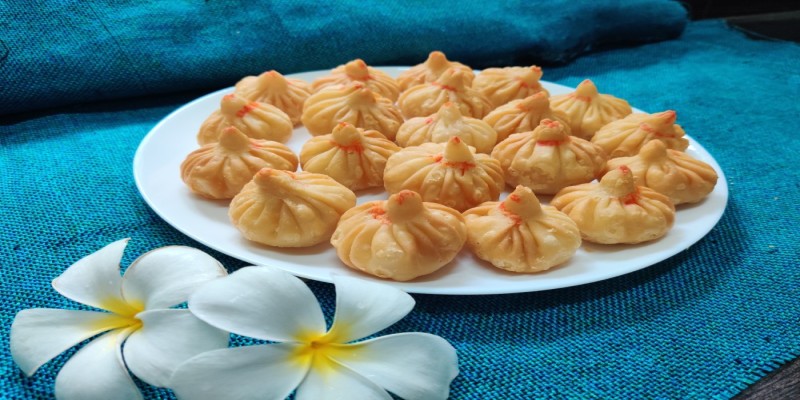 It's that time of the year!!! Vighnaharta is here. The chanting of the hymns, prayers, fasts, decorations, and all types of celebrations. What a wonderful sight to behold; And Ganesha's favorite Modaks! That is why he is even known by the name 'Modakpriya' because of his never-ending love for modaks.
People celebrate Ganesh Chaturthi with great enthusiasm in the states of Maharashtra, Goa, Karnataka, Madhya Pradesh, and many others. Modaks are specially served as Bhog during Ganesh Chaturthi because they are Lord Ganesha's favorite. Ritual dictates that 21 modaks are to be served to Lord Ganesha. A lot of people are unenlightened about the story behind the 21 modaks offered to Lord Ganesha.
So it all started when one day Lord Shiva along with Goddess Parvati and Lord Ganesh visited Anusuya, the wife of an ancient Rishi Atri. Anusuya presented Ganesha with a tray full of toothsome delicacies, which Ganesha went on devouring, but no dish could satisfy his hunger. He ate everything present on the plate, but nothing was able to satiate his hunger. Some believe that Anusuya said that she would only serve food to Lord Shiva only after satisfying Ganesha's appetite. During this, she thought of feeding Ganesha something sweet which might fulfill his hunger, and it worked! Ganesha finally gave a loud burp, which indicated that his belly was satisfied. Interestingly enough, Lord Shiva also burped loudly soon after Ganesha's burp, and that too 21 times, which meant Lord Shiva's stomach was also full. It made Goddess Parvati curious as to what was the sweet treat that Anusuya offered Lord Ganesha.
Parvati asked Anusuya about the sweet she had offered Ganesha. To which Anusuya replied that it was Modak that satisfied Ganesha's hunger. From that instance, Parvati expressed it as her wish that devotees of Ganesha will always offer 21 modaks to him.
Well, Modaks are akin to happiness. It is also known and adored by different names like Mokadam or Kudumu in Telugu, modaka, or Kadubu in Kannada, Kozhukattai, or Modagam in Tamil, and Modak in Marathi and Konkani.
Modaks have also evolved a lot over the years. You get to relish on a plethora of modaks. But in my opinion, nothing can beat the traditional and authentic taste of Ukadiche and Talani Modaks. Curious about how they are made and what stuffing goes in?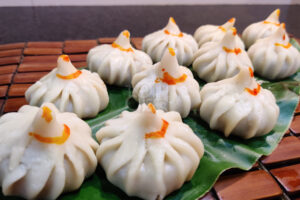 Ukadiche Modaks consists of a delicious filling made of coconut, dry fruits, and jaggery, which is inside a thin covering made of rice flour. After steaming the modaks, garnish them with a dollop of ghee to enhance the taste. As the modaks contain jaggery, it is packed with antioxidants and nutrients which help cleanse the liver, respiratory tract, intestine, and stomach by flushing out toxins from the body.
Talani Modaks are often made in two different ways. One is made with coconut and sugar filling, while the other consists of Puran. These modaks are a must-have during Ganesh Chaturthi.
To finish up, Modaks are Ganesha's sweet blessing to our taste buds.
Want to acquaint your taste buds with the traditional taste of, Ukadiche and Talani modaks?

Check out our making of ukadiche modak video- – https://youtu.be/w1mrPTWadfU