Narali Bhaat is cooked on the auspicious day of Narali Poornima which people refer to it by various names like, Narali Pournima, Shravani Pournima, Rakhi Pournima, or Raksha Bandhan are the different names for one festival which is celebrated in the month of Shravan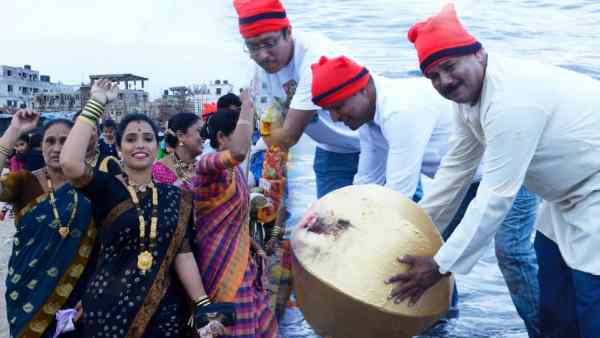 And in a country like India where every festival is known to have it's unique delicacy so here's what Narali Poornima has to offer our taste buds. Starting with the festival Narali Poornima is observed by the fishing communities mainly Koli community, this festival marks the beginning of the fishing season where the fisherman propitiate the sea god by offering coconut wrapped in a gold paper known as 'Sonyacha Naral' and pray for the safety and prosperity before commencing their fishing season. Sweet coconut rice or Narali bhaat is cooked specially for this occasion and is eaten with great relish. This dish is quite simple to cook but the taste is an ultimate festive treat for your taste buds. It is made by sweetening rice with jaggery and coconut and dry fruits are added to accentuate its taste.
The recipe is quite simple, you will need :
1 cup Basmati rice
3/4 cup Fresh coconut, grated
3/4 cup Jaggery, grated
1/2 teaspoon saffron strands
9-10 cloves (Laung)
4 tablespoons Ghee
2 cups Water
1/4 cup Mixed nuts, chopped (raisins, cashew nuts, almonds, chironji and any other nuts of your choice)
Why not celebrate rakhi by sharing this authentic delicacy with our family and friends.
Want to give your taste buds the traditional taste of this delicacy? So try out Narali Bhaat from Nativ Chefs where the dish is handcrafted with love by our Native Chefs at "NativChefs"