"Let your food be your medicine and your medicine be your food!!" A quote to remember when you are handling your food. We enjoy different delicacies with our loved ones and like to explore new types of cuisines. But does anyone pay attention to the safety of ingredients?
Food is a necessity for all living beings in this world. However, 'food safety' is a critical stage in guaranteeing that food stays safe at every stage of the food chain. Access to a good chunk of hygienic food is key to maintaining a long life and promoting good health. It's estimated that there are about 600 million cases of food-related diseases every year. Unsafe food poses a grave threat to human health as illnesses are usually infectious or toxic in nature. These are often caused by different types of bacteria, viruses, or chemical substances and enter the body through various means.
Hence, to reduce food-related illnesses, the World Health Organization (WHO) and Food and Agriculture Organization (FAO) of the United Nations facilitated the observance of World Food Safety Day on 7th
June. The year 2018 saw the first year for World Food Safety Day in an effort to reduce the burden of foodborne diseases.
With governments, producers, and consumers sharing the responsibility for food safety, everyone plays a vital role in ensuring the reach of hygienic food from farm to table. Member states of the WHO also participate in food safety drives and raise awareness in other countries, which face food-related issues.
Five steps that call for action, laid out by WHO, in every country are-
1. Ensure It's Safe- Governing bodies should ensure hygienic food for everyone
2. Grow It Safe- Farmers and food producers need to adopt good practices for healthy crops
3. Keep It Safe- Businesses should ensure safe storage of food products
4. Know What's Safe- Customers should be aware of safe and healthy food products
5. Team Up For Food Safety- Everyone should work together to ensure the safety of our food products.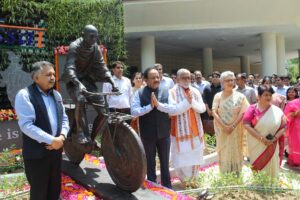 In India, the first World Food Safety Day was celebrated on 6th June and was kicked-off at the FSSAI headquarters to commend the remarkable work of food businesses and individuals to promote food safety. Awareness for food safety has risen in recent times and everyone strives to procure safe and hygienic food. Foodborne diseases are gradually decreasing and we will be able to tackle this situation in the near future.
In recent times, following a particular diet has gained a lot of popularity and people are forgetting about certain health repercussions of not eating fresh and home-made food. Skipping certain meals, restricting certain types of foods, not eating past a certain time, etc. are some of the few 'dieting myths' that people follow. To stay healthy, enjoy some treats in between and make sure you eat freshly prepared food. Even FSSAI and local doctors
promote eating freshly cooked food.
We at Nativ Chefs believe exactly that. Our home-cooks make sure to get fresh ingredients from the market and sanitize fruits and veggies without losing their taste and benefits. We make sure to provide you the authentic taste without compromising on food safety!! So, from everyone at Nativ Chefs, we hope you all are staying healthy and ensuring safe food for your loved ones!!