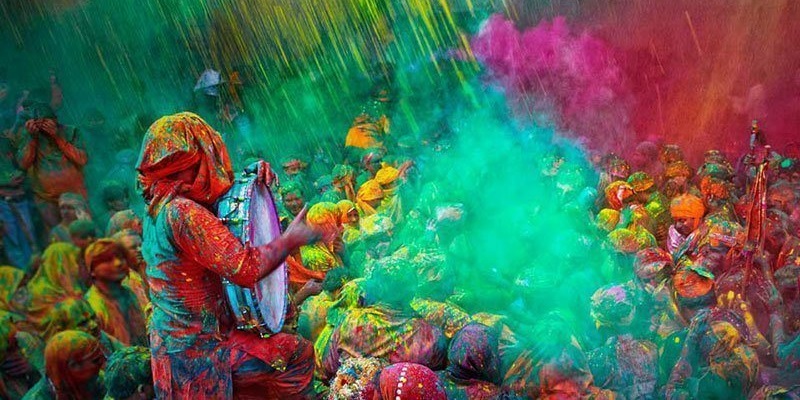 Bura na Maano, Holi Hai!! If you want to see the diversity of Indian culture, Holi shows the 'true colours' of it. With unique rituals and an electric atmosphere, it brings a kaleidoscopic sensation. It's the perfect festival for summer as we all go outside and share some moments over a cooling thandai with our loved ones.
Holi, also known as the Festival of Colours, marks the end of winter and the arrival of spring. It signifies the eternal love of Radha and Krishna and connotes the triumph of good over evil. We celebrate Holi over two days span, but the preparations last for a month!! Holi is the time where people forget and forgive about the past sins, and reconcile with their loved ones over delectable sweets and drinks.
Although Holi is a popular term, it's also known as many other names. Phakuwa in Assamese and Dola Jatra in Odisha are a few names in a long list of cultural names. While this festival is known worldwide, it also has different types of rituals for celebration in India.
One such is Phoolon Ki Holi in city of Vrindavan. This ritual celebrates the centuries-old love of Radha and Krishna. It starts a few days before Holi and, flowers, holy water, and herbal colours are showered on people in temples. Food is one of the main highlights during Holi. In Vrindavan, delicacies like jalebis, aaloo tikki, gujias, kachoris, gulab jamuns, thandai, and several more are a must-try.
Uttar Pradesh celebrates Phoolon ki Holi a few days before the main event. Lathmar Holi, one of the most popular rituals, has a unique approach to celebrate the festival. The festivities take inspiration from Lord Krishna's story. According to folklore, Lord Krishna was chased down by a group of angry women in Barsana as he teased Radha on the eve of Holi. The festivities include Holi songs, sung in their local dialect, Braj; it also consists of Matki Phod, similar to Dahi Handi.
Rangpanchami, also known as Shimga, is a traditional Maharashtrian celebration. Holi is divvied up into two days the first night, known as Holika Dahan, where people light firewood to absolve them of all the negative energy. The next day is Rangpanchami, where people celebrate with wet and dry colours. Typical Maharashtrian delicacies famous during Holi are Puran Poli, Thandai, Chiroti, Shrikhand, and several others.
In Rajasthan, the festivities for Holi are similar to that of Maharashtra. Although the ritual is the same, the grandeur of the celebrations is extravagant. The fancy processions include a royal band, decorated horses, and many other elements. The royal festivities also include delicious food and drinks to have a great time. Their main delicacy is Gujia, which is a crunchy sweet filled with khoya and dry fruits.
Basant Utsav (Spring Festival), also known as Dol Jatra, is the Bengali version of Holi. During the festivities, women usually dress in yellow and recite poems from Rabindranath Tagore with traditional songs and dances. Thandai, Rasgullas, and other sweet and savoury dishes are popular during the Holi festivities.
There are also other rituals for Holi in different states like Khadi Holi in Uttarakhand, Punjab's Hola Mohalla, Shigmo in Goa, Manipur's Yaosang, Manjal Kuli in Kerala, and many others. Although the rituals differ, the use of colours is a common practice. The colours have their significance.
Every colour has a meaning in Indian culture. The colour Red is a mark of 'matrimony'. You can see this colour on almost every bride's dress during their wedding, as it symbolises love, beauty, and the sign of a married woman. Yellow is a synonymous colour to turmeric and signifies the medicinal functions of the latter. The blue colour is related to a revered God in Hinduism, Lord Krishna. The colour Green symbolises new beginnings and harvest. Saffron colour is usually associated with Hinduism and strength.
Just like the diversity of these colours, the cultures in India are also varied. However, it brings us all closer and keeps us all in harmony.
So, from all of us at Nativ Chefs, we wish everyone a happy and prosperous Holi!!