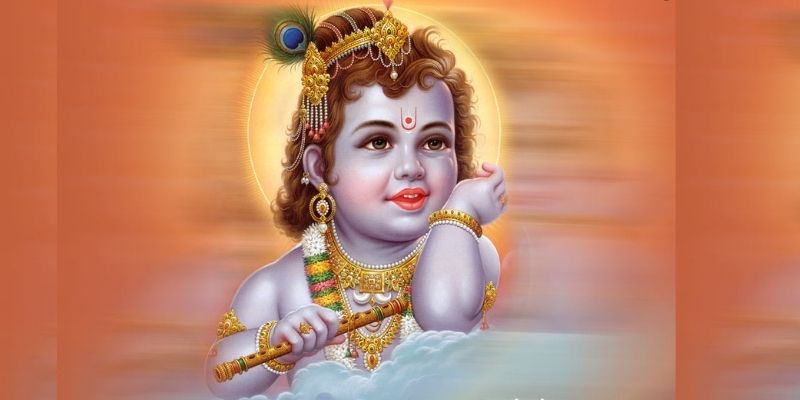 Govinda Aala re, aala!! Who's blue, mischievous, and has an affinity for Makhan? We all know the answer to that!! Of course, we are talking about Lord Krishna. Popularly known as Shri Krishna, people know him using other names as well, such as Girdhari- one who lifted Govardhan hill, Devakinandan- son of Devaki and Vasudev, Parthasarthy- chariot rider for Arjuna, Gopal- who takes care of cows, and many other names.
Krishna, the eighth avatar of Lord Vishnu, was born to Vasudev and Devaki in a prison cell. The history of Janmashtami goes back several millennia, and if we keep surveying, there are multiple folklores relating to Krishna and his birth. Moreover, people believe Krishna's purpose was to make a kingdom of peace, religion, and prosperity. Mathura's King Ugrasen had a daughter, Devaki, who married King Vasudev. However, this was not accepted by Kansa because he had a prophecy of death from one of their children. Kansa imprisoned Devaki and Vasudev, and whenever a child was born, Kansa would kill them.
However, on the night of the birth of their eighth child, a divine voice asked Vasudev to ferry the child to Nandaraj, his friend. Vasudev found an exit, and with the help of Sheshanag, he was able to cross the raging Yamuna river. Before Kansa could reach their prison cell, Vasudev exchanged his newborn with Nandaraj's daughter and returned to his wife. As Kansa tried to kill the daughter, she slipped away from him and transformed into the Goddess Durga. She foretold Kansa of his doom which would soon come true.
Krishna Janmashtami commemorates the birth of Shri Krishna, and people from every state and culture celebrate this festival. Janmashtami falls on the Ashtami or the eighth day of the Krishna Paksh or dark fortnight of Bhadon month. For Hindus, it's one of the most important festivals, where, on the first day, people perform the Raslila (dance drama), which depicts Krishna's life. At the stroke of midnight, prayers and pujas are performed to applaud Krishna's deeds. Some children even dress up as Krishna and Radha. The celebrations reach their peak when people go two nights without any sleep and chant bhajans and folk songs connected to Janmashtami.
Festivities for Janmashtami have no end as almost every state and culture has its way of celebrations. Let's look at some of the famous ceremonies in India-
Since Krishna was born in Mathura and grew up in Vrindavan, the Braj region in Uttar Pradesh celebrates this festival like there's no tomorrow. Devotees decorate and light temples with rangolis, flowers, and lights, making it a glittery affair. People perform Rasleelas and storytellers treat the audiences with tales from Krishna's childhood through song or dance.
People in Gujarat celebrate the festival similar to Dahi Handi, called Makhan Handi, especially in Dwarka, the origin of Lord Krishna's empire. Folk dances, singing bhajans, and visiting temples such as the Dwakadhish temple of Nathdwara, are all part of the festivities in Gujarat.
In Jammu, kite flying is one of the main festivities during Janmashtami
Moreover, Janmashtami in Maharashtra is famous in districts like Mumbai, Pune, Nagpur, and Latur. Also known as Gokulashtami, one of the most popular festivities is the Dahi Handi. Here, they tie an earthen pot at the top where participants form a human pyramid to reach it and break it. This ritual is a symbolism of a young Krishna sneaking jars of butter from various houses.
In South India, locals decorate their homes with kolams and draw small footsteps using rice batter, symbolizing the tiny footsteps of a young Krishna entering their home. Devotees offer sweets like payasam and laddus for pooja, with some butter.
Janmashtami is also celebrated in countries like Nepal, Fiji, Mauritius, and Bangladesh.
Although Krishna was named 'Makhanchor', his love for eating was immense. Any dairy product, available in Vrindavan, was finished by Krishna and his mates. However, for this festival, there are certain delicacies that you must try, those are-
Panjiri is one of the vital 'prasadam' of this festival, and people believe this delicacy to have a good effect on the intestines. It's prepared with coriander seed powder, ghee, sugar, and assorted dry fruits and is popular in Uttar Pradesh, Bihar, Punjab, and several others.
Some consider Maakhan Mishri as Lord Krishna's favourite. It's easy to prepare and consists of butter and sugar.
One of the most traditional drinks during Janmashtami is honey and milk, which is considered a symbol of purity.
Gopalkala, also known as 'poor man's food', is offered to Krishna during midnight prayers. It's a simple dish consisting of cucumbers, beaten rice, curd, coconut, sugar, ghee, and cumin seeds. Originating in Maharashtra, it's offered as a prasad in almost every household.
Furthermore, Panchamrit is a milk mixture consisting of milk, ghee, curd, jaggery, and tulsi leaves. Its use is to bather Lord Krishna at midnight, and once the devotees complete the ritual, they distribute the Amrit among themselves as a prasadam.
There are also a few other treats like Kheer, Basundi, Nariyal Barfi & Laddu, Besan Laddu, Ragi Laddu, Sabudana Thalipeeth, Masala Bhaat & kadhi, and Gulab Jamun that make this truly a festive time.
Janmashtami is near, and we hope you have reserved your energy for the celebrations. We wish everyone a happy and safe Krishna Janmashtami!!