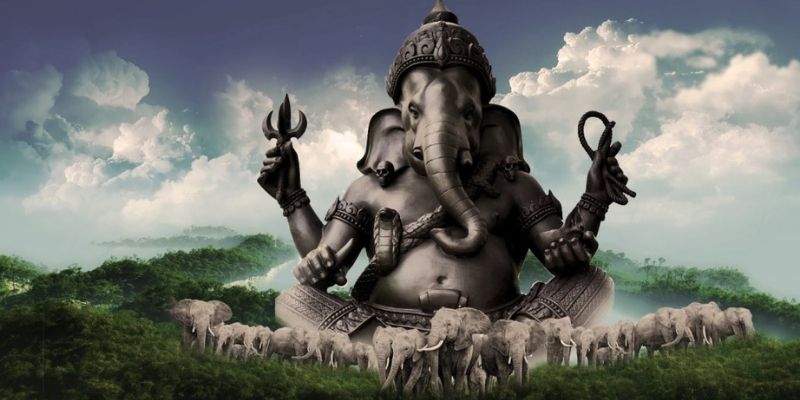 Name a better time than Ganesh Chaturthi in Monsoon!! It's an energetic festival filled with zest and an electric atmosphere that never fails to impress. You can hear cheers of 'Ganpati Bappa Moraya!!' echoing around cities. People from all cultures celebrate Ganesh Chaturthi, with the tourism industry booming during this time. Without any further ado, let's look at this festival's background with some famous places of worship and what you can eat!!
The festival of Ganesh Chaturthi commemorates the birth of Lord Ganesha in the Hindu month of Bhadrapada. Some say that the first celebrations began in the 1600s since Chhatrapati Shivaji Maharaj considered Ganesha their Kuladevata (family deity). Although, some argue that the festival dates back to the rule of the Chalukya dynasty, between 271 BC and 1190 AD. However, Bal Gangadhar Tilak transformed this festival into a public event in the 19th century to unite everyone. Did you know that Lord Ganesha has 108 different names?!
Known as the 'God for Everybody', there are several folklores surrounding Lord Ganesha.
According to legends, 

Parvati

 created Lord Ganesha from the turmeric paste she used for bathing. After breathing life into him, she asked him to guard the palace while she took a bath. After returning home, Lord 

Shiva

was not allowed to enter. A battle ensued, and in the end, Shiva beheaded Ganesha. Goddess Parvati was upset and enraged seeing her son dead and asked Shiva to revive his son. Shiva requested his followers to get the head of the first dead creature facing north. After the follower came back with the head of an elephant, Lord Shiva fixed it and brought Ganesha back to life.

Some say that Lord Ganesha wrote

Mahabharata

 as 

Sage Vyasa

 recited it. After reciting it without any pause, Ganesha's writing instrument broke, and since he had no time, he broke a part of his tusk and started writing. The whole process took ten days without food or water. On the 11th day, after completing the epic, Ganesha was asked to bathe in a river.

Some also believe that the 

Moon

 laughed at Ganesha as he travelled on a mouse after a feast. As he was offended, Ganesha cursed the Moon. After some persuading from the other Gods, he revoked his curse but maintained that no one on Earth should look at the Moon during Chaturthi.

The name, 

Modakpriya

, stuck to Ganesha after visiting 

Anusuya

 with his parents. After presenting several delicacies, Ganesha's hunger could not be satisfied. During this, Anusuya thought of feeding Ganesha a sweet to fulfil his hunger, which worked. Soon Ganesha gave out a loud burp followed by Lord Shiva. Parvati was curious and asked Anusuya. After knowing what fulfilled Ganesha's hunger, Parvati wished that devotees should 

offer 21 modaks to Ganesha as prasadam.
In an extravagant festival like this, people decorate their houses when hosting Ganpati and inviting other people for blessings. Devotees throng famous temples to receive boons and hand-deliver prasadam to Lord Ganesha. During the 10-day festival, Gauri Puja (Goddess Parvati) or Mahalakshmi Puja is also done, two days after Ganesh Chaturthi. Also known as Mangala Gauri, it lasts for three days and is considered auspicious.
Also known as Vinayaka Chaturthi in South India, states like Karnataka, Andhra Pradesh, Telangana, Kerala, and Tamil Nadu celebrate Gowri Habba, which takes place a day before Ganesh Chaturthi. The best places to experience the celebrations include the Kanipakam Vinayaka temple in Chittoor (Andhra Pradesh), Khairatabad Ganesh in Khairatabad (Telangana), Bengaluru Ganesh Utsav in Basavanagudi (Karnataka), and Karpaka Vinayaka temple in Tirupatthur (Tamil Nadu).

In Kerala, it's called 

Lamboodhara Piranalum. 

Here, the celebrations start a month before Ganesh Chaturthi. The capital of Kerala, Thiruvananthapuram, witnesses a long procession on the last day from the 

Pazhavangadi Ganapathi temple

 to the 

Shankumugham beach

.

In Goa, in the Konkani dialect, it's called 

Chavath,

 which lasts from nine to 21 days. People install Ganesh idols under a canopy made of vegetables, fruits, berries, and herbs. To witness the best celebrations, you can visit 

Panjim

 and 

Mapusa

. However, to see the best installations, it's a town called 

Marcel

, where craftspeople make idols from coconut, cotton, wax, and other unconventional materials.

With more than 10,000 pandals in 

Mumbai

, Mumbaikars celebrate Ganesh Chaturthi prolifically. With drums and music all around, the decibels are the highest compared to any city, attracting thousands of tourists from all over the world. The most iconic pandal is the 

Lalbaugcha Raja;

 however, other prominent temples include 

Ganesh Galli Mumbaicha Raja

, 

GBS Seva Ganesh Mandal

, 

Andhericha Raja

, and many more.

With rituals somewhat similar to Mumbai, 

Pune

 holds a 'Pune Festival' featuring classical dances, music recitals, dance and drama, handicraft and textile displays, and automobile rallies. Some famous temples include 

Kasba Ganpati Mandal

, 

15th century's Tambdi Jogeshwari Temple

, 

Tulsi Baug Ganpati

, the 

Kesari Wada Ganpati

, and many others.
But with all these places, you might wonder what are the best festive delicacies to try?! Well, wonder no more!! As we all know that Ganpati loves Modak, which is the staple offering during this festival. However, there are also other sweet and savoury delicacies you can try, which are
Puranpoli
Srikhand
Patholi
Rajgira Laddu
Samosa
Panchakajjaya (in Karnataka, made with sugar, ghee, dessicated coconut, sesame seeds, and gram dal)
Well, all this has got me in a festive mood, and everyone is ready to celebrate Ganesh Chaturthi. Let's celebrate this monsoon-special festival with high energy levels. We wish everyone a safe and happy Ganesh Chaturthi and Ganpati Bappa Moraya!!