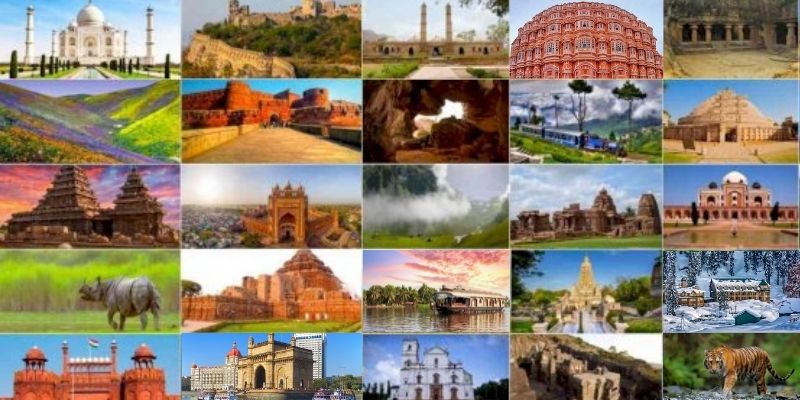 It's time to pack your bags!! World Tourism Day is here. Travelling is a form of breaking free from your daily routine to explore something new and exciting. The tourism industry has taken a hit in recent times, but some people are unfazed by it and take any opportunity to visit different cities. Travelling helps us acquaint ourselves with new cultures, people, and cuisines.
With this in mind, there arose a need to spread awareness about the importance of the travel and tourism industry. The United Nations wanted people to realise the importance of tourism internationally. With the help of the United Nations World Tourism Organization, the world celebrates World Tourism Day. Since 1980, it's been an international observance on 27th September, and each year, they celebrate this event with a theme. For 2021, there's no theme yet. However, in 2020, it was "Tourism and Rural Development", in 2019, it was "Tourism and Jobs- a better future for all", and in 2018, it was "Tourism and the Digital Transformation".
Although World Tourism day promotes tourist attractions of a country, we thought of taking a different route to celebrate this day. This time we are looking at the top 10 places to visit in India and their must-try local cuisines. Let's have a look, shall we?!
Rajasthan– Even though the state is known for its vast desert and heat, there are several tourist attractions, mainly the forts. With these monuments intact for hundreds of years, they sure are a sight to behold. Some of the famous forts are
Amer Fort,
Udaipur Palace,
Pushkar Mela (an annual fair in Thar desert),
Hawa Mahal,
And many others.
However, let's look at some of their traditional delicacies. Taking influence from the Rajputs, their meal predominantly consists of different types of meat. Some of their famous dishes are their huge thalis. These thalis are the main attraction with more than ten elements to them. Dal Baati Churma, Balushahi, Ghevar, Panchkuta (Ker Sangri), Kadhi Kachori, and several others are few from a long list of delicacies.
Gujarat– It's the land from where our Prime Minister hails and is a neighbouring state to Rajasthan. It has a continuous inflow of tourists because of its beaches, ancient temples, and archaeological survey sites. Places like
Modhera Sun temple,
Gujarat Science City,
Dumas beach,
the famous ISKCON temple,
And many others attract tourists from everywhere.
Other than the usual dhokla and theplas, Gujarat has a lot to offer in terms of food. Majorly a vegetarian state, dishes like Undhiyu, Panchkutiyu Shaak (a five vegetable curry), Handvo (a vegetable cake), Khichdi (a mix of pulses and rice), and many others come under this unique cuisine.
Kerala– "God's own country", if you will, this state had to come into this list because of its diverse and ethnic beauty. Ranging from hill stations to pristine beaches, Kerala has it all, which includes historical monuments, waterfalls, and several other attractions. But we are diving deep into the cuisine of Kerala. Of course, going to Kerala, people want to try the local idli, dosa, and sambhar. But some of their other delicacies will also leave you wanting more such as,
Sadya (a thali consisting of more than 15 elements),
Idiyappam with stew/curry,
various types of fish curries,
Thalassery Biryani (Kerala's own biryani preparation),
Palada Payasam (type of kheer),
And many others.
Goa– It's a state where Indians travel to witness the beaches and fresh seafood delicacies. Moreover, Goa is known to have Portuguese influence in almost every aspect, be it their cuisine or architecture. Some of the prominent places to visit in Goa include
Calangute Beach,
Dudhsagar Waterfall,
Aguada fort,
Chapora Fort,
Bom Jesus Basilica (one of the oldest churches),
And several others.
Goan cuisine would include a lot of seafood delicacies. However, there are other popular dishes like Goiabada (a Portuguese dessert), Sanna (a type of rice cake), Xacuti (a curry-based delicacy), Vindaloo, Bebinca (traditional layer cake from Goa), and many others.
Punjab– It's a state that boasts the most popular cuisine in India and is loved by all. The state houses one of the most iconic temples in India, the Golden Temple. Along with that, some more famous attractions include
Jallianwala Bagh,
Rock Gardens,
and the ever-so energetic Wagah Border.
The state's cuisine is one of the most famous in India, if not the world. Let's exclude Butter chicken from this list and see what other delicacies it offers. Dishes like Chhole Bhature, various types of Parathas, various non-veg delicacies, Sarso Ka Saag & Makke ki roti, Panjiri, let's not forget Lassi, Sattu (a ground barley drink to cool your body), and many others also have the must-try tag on them.
West Bengal– This North Eastern state has lots to offer, looking at its tourist attractions and diversity in cuisine. West Bengal boasts of a rich architectural history with mansions maintained from the British era. Kolkata, the City of Joy, is the best example of a combination of culture and urbanization. Places like
Victoria Memorial,
Kanchenjunga,
Eden Gardens,
the Sundarbans,
combined with beaches in the South of the state attract a lot of tourists.
When anyone says Bengali cuisine, the first dish that comes to mind is Rosogulla. However, with a rich history, this cuisine takes influence from Mughals, Chinese, Bangladesh, and Oriya cultures. Delicacies like Patishapta, Darbesh (also known as Laddu), a variety of seafood delicacies, Mishti Doi (sweetened curd), Bengali style Biryanis, and many others delicacies are a must-try for the food explorers.
Jammu & Kashmir– Although this North state has seen a lot of dispute in recent years, its cultural heritage and cuisines showcase its snow-clad mountains and evergreen valleys. Places like
Solang Valley,
Leh Palace,
Rohtang Pass,
Zoji La Pass are some of the prominent places to visit.
With influence from the Muslim community, Kashmiri Pandits, and Indian community, Kashmiri cuisine has a vast spread. Dishes like Shufta (A Kashmiri dessert), Rogan Josh, Waazeh Polav, Wazwan (multi-course meal), Noon Chai (pink colour salted tea), Kahwah (green tea with saffron and spices), and many others. These are some of the most popular delicacies in Kashmiri Cuisine.
Uttar Pradesh– Uttar Pradesh boasts numerous ghats, temples, and forts with India's mightiest river, Ganga. Also known as the Land of Spirituality, the state houses UNESCO World Heritage Sites like Taj Mahal and Fatehpur Sikri. Some more popular places include-
Qutub Minar,
Lucknow- the City of Nawabs,
Ghats of Varanasi, and many others.
Along with these attractions, Uttar Pradesh also has a variety of delicacies. Different types of Kebabs, Lucknowi Biryani, Tehri (similar to a veg pulao), Sheermal (flaky naan), Jalebi, Petha (a type of candy), and many others.
Bihar– Known as the birthplace of Buddhism and Jainism, Bihar's history is vast, with numerous dynasties evolving from its core. Some of the popular tourist attractions include-
Bodh Gaya (from where Buddhism originated),
Nalanda University,
Navlakha Palace,
Valmiki National Park, and man others.
Bihar also showcases the variety in its cuisine. The state has three types of cuisines- Bhojpuri cuisine, Maithil Cuisine, and Magahi Cuisine. Delicacies like Litti Chokha, Pittha, Vegetable Korma, Churra, Gud Thekua, and many others are at the forefront of the Bihari cuisine.
Maharashtra– The name of the state translates to 'the great state'. Although Mumbai attracts tons of tourists, there are several spots which are worthy, such as,
Gateway of India,
Elephanta Caves,
Mahabaleshwar (a hill station),
several mountains for trekking and hiking,
Ajanta-Ellora Caves, and many others.
Within Maharashtra, several cultures have their delicacies which makes the state's cuisine extensive. Apart from Mumbai cha Vadapav, more drool-worthy dishes come from different regions of Maharashtra. The Konkan region is filled with seafood delicacies and rice, and the Malvan region consists of Malvani cuisine comprising mostly non-veg delicacies. The Desh region is filled with veggies and flatbreads made of wheat or jowar. The Vidarbha region is also known as Savji, which presents spicy food, veggies or meat.
So, which city/state are you visiting once vaccinated?! If you're not travelling, why not experience the taste of Indian delicacies at the comfort of your home?!