From dedicated fasting to a never-ending feast, Ramzan is a 'festival' that shows a whole new demographic for celebration. It's the holiest month in the Islamic calendar, where there's a fasting period for a month, but the iftar food is worth the wait!! Ranging from non-veg, veg, spicy, sweet, and many other forms and tastes of food, Ramzan offers a kaleidoscopic range of food and festivities.
Ramzan, also known as Ramadan, is the ninth month of the Islamic calendar and is the month of fasting for Muslims worldwide. A celebration of Muhammad's first revelation, people regard Ramadan as one of Five Pillars of Islam. The word 'ramadan' derives from an Arabic word, 'ramidha' meaning 'become burning/scorching'. According to folklore, in A.D. 610, the angel Gabriel appeared in front of Prophet Muhammad and presented with the holy book of Quran. Muslims fast during this month to mark the revelation of Quran.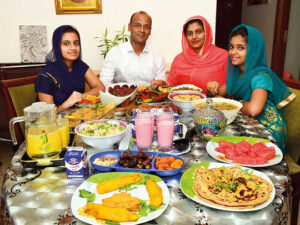 While it's an annual event, it lasts for about 29 to 30 days, from one sighting of the crescent moon to the next. The fasting from sunrise to sunset is 'fard', which is mandatory, while the predawn meal is 'suhur', and the nightly feast is 'iftar'. The iftar meal is a vibrant affair that offers a wide variety of meals to experience!!
With several types of kebabs and platters available in nooks and corners of the Muslim community, some delicacies are a must-try during this festive season. Some are-
Starting with a festive platter called Iftar Thali, it has two variants, Mughlai and Bohra. Both comprise several elements to satisfy your craving for different tastes. Kebabs, parathas, and dessert are the main attraction for the Iftari meal, and we are sure that this platter won't disappoint!! The Mughlai and the Bohra variants consist of contrasting delicacies, with each element having a unique flavour, making it a must-try during Ramzan.
Muslim meals are incomplete without Biryanis. While kebabs are a popular delicacy, biryanis are also a staple food among the communities and are one of the most loved delicacies across India. According to an Indian restaurateur, Biryani originated in Persia, and it was the Mughals who brought it to India. Delicacies like Chicken biryani, Mutton biryani, Chicken Tikka biryani, and many others top the demands of customers during the iftar meals.
Chicken Kebabs are also a hugely popular delicacy among the people. A starter for any party, this delicacy will surely leave your guests wanting more!! Kebabs are a variable delicacy in terms of shape, taste, and cooking method. Hailing from the Middle East, their history dates back as long as 17th Century, B.C.
A unique delicacy that you can experience is Umm Ali. It's an Egyptian dessert and is the National Delicacy of Egypt. Consisting of Bread, Rabdi, and dry fruits, it's an exotic delicacy, and is one of the oldest dishes in the town. According to folklore, the dish dates back to the Ayyubid era in Egypt, and the then queen was responsible for it. She wanted a delicacy named after her and asked the chefs to make a delicacy 'worth her name'. Hence, the dish Umm Ali was born!!
Mutton Kadi Chawal is a traditional Bohra delicacy consisting of mutton cooked in coconut milk. It's a unique delicacy consisting of creamy mutton gravy, succulent pieces, and a special mixed-rice to complement the meal. It's a rare delicacy that gains popularity mainly during the Muslim community's festive celebrations.
Other such delicacies that you could try are Bhuna mutton with Ghakar, Shahi Tukda, Sheer Khurma, Mughlai Chicken Korma, red aroma chicken, and many such delicacies. You can visit our menu page to know more about other such traditional delicacies.
We hope you all enjoy authentic Ramzan-special delicacies with your friends and family. Share positivity and happiness with your loved ones and enjoy this summer festivity safely.
We wish you all Ramzan Mubarak and enjoy Ramadan with delicious and traditional at the comfort of your home!!