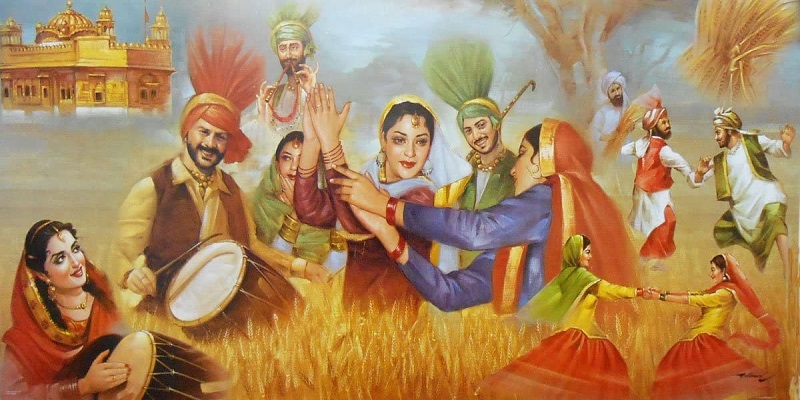 Vibrancy and variety are the 2 words that could describe almost every Indian festival. Borrowing the same description, we could describe the Punjabi festival, Baisakhi. Being the land of festivals, we Indians celebrate every festival with zest and enthusiasm.
Interestingly, people celebrate Baisakhi almost on the same day every year. While it marks the beginning of the Hindu Solar new Year, it's also the spring harvest festival for many Indians. Also known as Vaisakhi or Vaisakha, it celebrates the birth of the Sikh order. According to folklore, Aurangzeb ordered Guru Tegh Bahadur's execution since he did not convert to Isalm. This brought the coronation of Guru Gobind Singh and historic formation of Khalsa, both on the same auspicious day.
Celebrations are in full swing during this time as people take dips in holy rivers like Ganga, Kaveri, and Jhelum. Decoration of mandirs and gurudwaras is a sight to behold with community fairs, meeting relatives, and enjoying festive delicacies. Food is an important part of the celebrations as we get to see a variety of local and traditional North Indian food during this time.
With Punjabi cuisine a hit among the Indians, there are some delicacies that are a must-try this festive season. Mouth-watering and finger-licking dishes will satisfy your cravings and their unique taste will leave you wanting more!!
Starting off with a hot favorite, Rajma Chawal. It's a dish that needs no introduction and hits the sweet spot every time you eat it. A simplistic yet drool-worthy dish, it's a dish that veg and non-veg lovers will enjoy. While it has an amazing taste, it's also a healthy delicacy that can be enjoyed with your friends and family.
Laccha Rabdi is a rich and creamy Punjabi dessert that's famous around this festive season. While it's a popular delicacy, it has many variations in terms of flavour. Although it' a North Indian delicacy, it's an age-old sweet that has its mentions in the early 1400s. Enjoy it with your loved ones and celebrate the Punjabi festival with some delectable sweets.
Another sweet delicacy to cure your sweet tooth is Phirni. The concept of this dish derives from Kheer and is another famous dessert during Baisakhi. The origin of Phirni traces back to ancient Persia or Middle East and the Mughals are responsible for its introduction in India. Although it's a simple dish, its taste is unique and has flavourful variations like the Mango Phirni.
Soya Chaap and Laccha Paratha is a drool-worthy combination and is a must-try among the Punjabi delicacies. Consisting of soya bean kebabs and a smoky, aromatic gravy, it's a delicacy that you can't afford to miss!!
Some of the other popular Punjabi delicacies are Butter Chicken (as usual), Chhole and Kulcha, Soya Chaap biryani, Sarson ka Saag, and many others!!
Listing all these dishes has made me hungry!! How about you? If you want to experience these delicacies, head over to our website and explore traditional and mouth-watering Punjabi delicacies!!
To everyone from Nativ Chefs, we wish you a happy and prosperous Baisakhi!!